General Details
Product name: Haematococcus Pluvialis Extract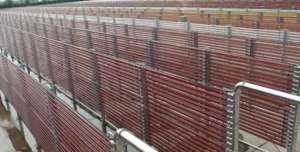 Plant latin name: Haematococcus pluvialis
Product specification: Astaxanthin: 2.0%, 2.5%, 3.0%, 3.5%, 4.0% by HPLC/UV, 5.0% by UV
Appearance: Dark red powder
Keywords: Spray drying, non-radiation, natural astaxanthin source
Other astaxanthin products: haematococcus pluvialis extract(oil), haematococcus pluvialis extract(water soluble liquid), haematococcus pluvialis extract(water soluble powder)
Health Benefits
Antioxidation
Natural astaxanthin from haematococcus pluvialis extract is a potent antioxidant which absorbs the excited energy of singlet oxygen onto the carotenoid chain, leading to the degradation of the molecule but preventing other molecules or tissues from being damaged.Natural astaxanthin also prevents the chain reaction production of free radicals initiated by the degradation of poly-unsaturated fatty acids, which can dramatically accelerate the degradation of lipid membranes. Natural astaxanthin is very good at protecting membranous phospholipids and other lipids against peroxidation.
The antioxidant activity of astaxanthin is much stronger than vitamin E and b-carotene. The antioxidant properties important in protection against photooxidation, inflammation, cancer, age-related diseases, immunity enhancement, liver function and heart, eye, joint and prostate health.
Photo Protection
Exposure of lipids and tissues to light leads to production of singlet oxygen and free radicals. Natural astaxanthin from haematococcus pluvialis extract has an important role in nature in protecting tissues against UV-light mediated photo-oxidation. Natural astaxanthin can be significantly more effective than b-carotene and lutein at preventing UV-light photooxidation of lipids. Thus the unique UV protection properties of astaxanthin could be very important for eye and skin health.
Eye Health
Two of the leading causes of visual impairment and blindness are age-related macular degeneration (AMD) and age-related cataracts. Both diseases are related to light-induced oxidative processes within the eye. Carotenoids like lutein and zeaxanthin are concentrated in the macula of the eye. A dietary intake of carotenoids, specifically lutein and zeaxanthin, can reduce risk for both nuclear cataracts and AMD.
Natural astaxanthin from haematococcus pluvialis extract has a stronger antioxidant activity and UV-light protection effect than lutein and zeaxanthin. Animal studies demonstrated that natural astaxanthin is capable of crossing the blood–brain barrier and, similar to lutein, will deposit in the retina of mammals. The retinal photoreceptors of rats fed astaxanthin were less damaged by a UV-light injury and recovered faster than animals not fed natural astaxanthin.Therefore, it is inferred that astaxanthin deposition in the eye could provide superior protection against UV light and oxidation of retinal tissues for eye health maintenance.
Skin Health
Excessive exposure of unprotected skin to sunlight leads to sunburn, photo-induced oxidation, inflammation, aging and even carcinogenesis of skin cells. Studies show that typical dietary antioxidants can reduce such damage, like b-carotene.Natural astaxanthin supplementation protects the retinal photoreceptors in the eyes of rats exposed to acute UV-light injury, The protective effect of natural astaxanthin against UV-induced photooxidation was stronger when compared with b-carotene and lutein.These findings indicate that natural astaxanthin from haematococcus pluvialis has an excellent potential as an oral sun-protectant.
Heart Health
High levels of LDL-cholesterol are related with an increased risk of atherosclerosis. However, HDL blood levels are inversely correlated with coronary heart disease and are indicative of protection against atherosclerosis. Oxidation of LDL is believed to contribute to the development of atherosclerosis thus it is possible to reduce the risk of atherosclerosis by antioxidant supplementation.Clinical data indicates that dietary antioxidants might protect against cardiovascular disease.
An in vitro test and study with human subjects ingesting natural astaxanthin from haematococcus pluvialis per day for two consecutive weeks demonstrated that natural astaxanthin protects LDL-cholesterol against induced in vitro oxidation. In an animal model study, natural astaxanthin supplementation led to an increase in blood levels of HDL.Therefore, natural astaxanthin can benefit heart health by modifying blood levels of LDL and HDL cholesterol.Finally, natural astaxanthin from haematococcus pluvialis could also be beneficial to heart health by reducing inflammation associated with the development of coronary heart disease.
Anti-cancer
Several studies have demonstrated the anti-cancer activity of natural astaxanthin from haematococcus pluvialis in mammals. Natural astaxanthin protected mice from carcinogenesis of the urinary bladder by reducing the incidence of chemically induced bladder carcinoma. Rats fed a carcinogen but supplemented with natural astaxanthin had a significantly lower incidence of cancerous growths than rats fed only the carcinogen.
The protective effect of natural astaxanthin from haematococcus pluvialis was even more obvious than that of b-carotene.Furthermore, a significant decrease in the incidence of induced colon cancer in those rats fed natural astaxanthin versus those administered only the carcinogen was found. Dietary astaxanthin is also effective in fighting mammary cancer by reducing growth of induced mammary tumors by 50%, more than b-carotene. Astaxanthin inhibits the enzyme 5-a-reductase responsible for prostate growth and astaxanthin supplementation was proposed as a method to fight benign prostate hyperplasia and prostate cancer.
Liver Detoxification
The liver is a complex organ in which intense catabolism and anabolism take place. Liver functions include active oxidation of lipids to produce energy, detoxification of contaminants, and destruction of pathogenic bacteria, viruses and of dead red blood cells. These functions can lead to significant release of free radicals and oxidation byproducts and therefore it is important to have mechanisms that protect liver cells against oxidative damage.
Natural astaxanthin from haematococcus pluvialis is much more effective than vitamin E at protecting mitochondria from rat liver cells against lipid peroxidation. Natural astaxanthin also induces xenobiotic metabolizing enzymes in rat liver, a process that could help prevent carcinogenesis. Natural astaxanthin can induce xenobiotic metabolizing enzymes in the lung and kidney.
Related Articles